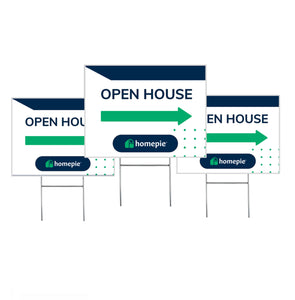 Open House Kit
Regular price
$149.00
$0.00
Unit price
per
Holding an Open House has numerous benefits to consider:
The more marketing, the better!
Group numerous private showings into one open house
Increase the scarcity factor by causing buyers to see their competition
Secure a direct buyer BEFORE they solicit the help of an agent
It's a no brainer... You can seriously increase your potential ROI by leveraging the power of a well planned Open House. This is highly recommended by Team Homepie.


Your Homepie open house kit includes 3 18"x24" corrugated plastic Open House signs with directional arrows, plus a stake for each sign (these work best in grass or soft ground). 
Follow the tips below to ensure success.

Open House Tips:

Plan for a weekend: Wait to schedule your open house until after you have received the signs, or are confident with the shipment tracking. Typical open houses are 3 to 4 hours starting at 11 or noon. Do it both Saturday and Sunday if you can.

Publish it online: If you are a seller who is on the MLS, let your representative know to add these dates to your listing. That will then be published on all of the major sites which pull open house data from the MLS. Typically your Open House will published by the likes of Zillow, Realtor.com, Redfin and hundreds more. You'll want to do this about a week in advance, ideally. It takes time to get the word out to all the sites and you want it to be advertised long enough to bring a good crowd.
Set up your directional signs: It's best to guide prospective buyers using directional signs from the closest major cross streets or intersections. Choose the one that has the most traffic, and guide the buyers at every turn until they reach your home. Better yet, do this at every entrance to your neighborhood. The more the better. Make sure your city/HOA will allow the placement of signs.
Do a listing check-up: If you are doing an open house because you are not getting enough traffic with your current MLS listing, you may want to speak with a rep about ways to improve your listing before you plan the open house. If your listing price or how it's is presented can be improved, it's highly recommended you do so before planning your open house so that you can get the best results.
Collect contact info: Have all visitors check in, or take a business card from each. This will help you keep track of who was in your home, and you can use the contact information to call these people for feedback if you still don't get any offers after the open house. All positive and negative feedback can really help you understand what buyers in the real buying market think of your home.