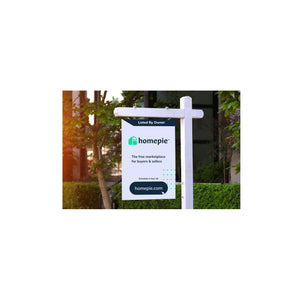 homepie-shop
Yard Sign
Regular price
$149.00
$0.00
Unit price
per
For sale signs are in the top 3 ways buyers find homes, even in todays connected world! Buyer's drive the neighborhoods they like, and neighbors tell their friends and family to come live close by!

Additionally, a professional yard sign give your buyer peace of mind knowing that this huge investment/sale is going to be professionally handled. The red and white signs from the hardware store tend to be a turn off for many buyers. Some buyers who see the red and white signs even try to lowball. If you want to maximize your sale price, stay away from giving that vibe and order a sign from us.

Getting a professional yard sign is extremely important to your success! Sell like a pro! 

Professional yard sign rental includes:
Installation, removal
Place in front yard when possible
Approximately 24"x30"
If unavailable in you area, we will provide 3 self install signs for maximum exposure ($149 value) - you can keep these if applicable
6 months rental included, then $19.95 per month



---